Want the best Epos Hampshire service? Then CCM EPOS is the company to choose as we tailor our products to meet your needs and not the other way round. With our years of experience, you can be certain that you will receive a product that will enable you to concentrate on serving your customers while monitoring transactions. Call 01202 302666 today.
The best Epos in Hampshire tills
Deciding between Epos Hampshire companies can be tough for you as a business as there may not be enough information out there on the market. The worst thing is to make an uninformed decision and choose the first provider on the market. With our help, you will be better placed to choose the right company for you.
Hospitality solutions
When you work in hospitality, you and your staff need a till that is reliable and fast. At CCM EPOS, we specialise in effective Epos  solutions that will overhaul your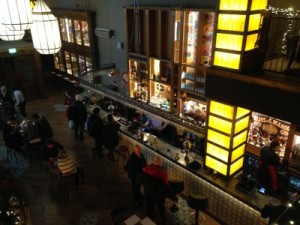 business and improve both efficiency and profitability. Our TouchPoint systems are tailored to your needs and will enable your business to achieve great success.
With our Hampshire Epos solutions, your business will be able to work more efficiently as it completes all the operations you need it to from cash sales to compiling product breakdowns. You have the opportunity to access every single transaction with all of the essential information you need.
For simplicity and ease of use, you will find that our Epos service comes up trumps. There is the option of doing all the simple till transaction to more complex operations. We program every till to feature core essentials such as Voids, No Sales, Discounts etc. as part of our all-in-one solution that can be used by any business.
Retail solutions
Fitted around your needs, you will find that our contributions to your business will be invaluable. We have worked with businesses of all sizes from clothing shops, garden centres, and many more retail environments. By choosing to go with our Epos Hampshire service, you can relax knowing that our company has your best interests at heart.
By entrusting your Epos in Hampshire needs in our capable hands, your business will soon start to notice the difference. We have developed our software so that it is easy to use for all, so you spend less time training staff and more time earning money. The team will be able to do all of the relevant tasks such as:
Scanning barcodes
Weighing products
Mix and Match with BOGOF
Chip and Pin
Discover more about our retail Hampshire Epos products by clicking on our retail Epos information page. We guarantee that you will not be disappointed with the quality of our service.
What is included in our Hampshire Epos service
Choosing an Epos Hampshire company is a decision that you will not be taking too lightly. By entrusting your business to us, you will want to know that you will receive the support that you need. Benefits of going with CCM EPOS include:
Set up of Loan Terminals
Remote support services are only a phone call away
Support is available 7 days a week
Tills to suit every business and environment
Sales reporting is available in real time
Technical team are on standby to help you today
How to get started
If you want to get the Epos in Hampshire ball rolling, as they say, we'd advise a consultation with our team today. We start with a no-obligation meeting which will be used to ascertain your requirements and aspirations. You will know your business, and this is something which our team will hone in so that we provide the solution that bridges the gap in your shop
About CCM EPOS
Our Hampshire EPOS company started with the old style cash registers as we saw a gap in the market that was not being fulfilled for small-to-medium sized businesses. As technology developed, we quickly branched into EPOS solutions to serve the needs of our customers and their businesses better. It is our passion to provide you with the best service and product.
The reputation of CCM Epos has been built on integrity and quality. We honour our word with our suppliers and customers, as we believe in doing good business. Our passion for quality has led us to deliver solutions that are unmatched in the county. With complete commitment, you can be certain that our Epos in Hampshire will be like no other.
Call us
Contact CCM Epos now on 01202 302666 for your free consultation with no obligation to use our Epos Hampshire company.